Leaflet work created for Jerwood Makers Open 2019, supported by Jerwood Charitable Foundation
Unlimited edition (first edition of 2800), given away to visitors to JMO, alongside a ceramic wall work.
Printed by Hato Press, London
Two colour risograph print on corona post consumer stock
ISBN 978-1-78972-268-0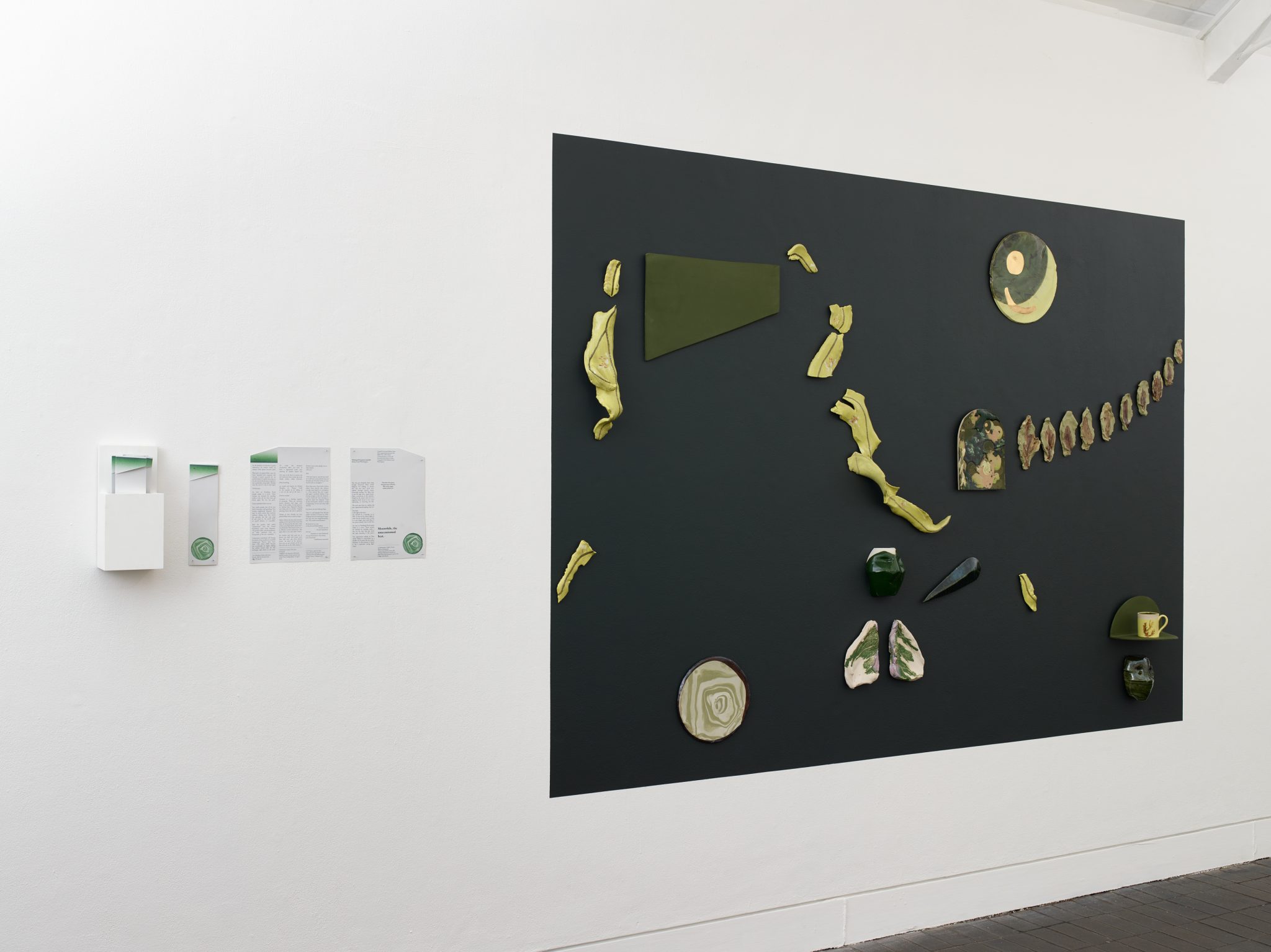 In the presence of Chrome (a green substance), tin (which makes an opaque white glaze) becomes pink.
Blue-pink of washed or newly exposed flesh, near the bone. Speckled with ruptured cells because I haven't ground the tin powder finely. It's a pink that stings on its own, but in the presence of green it has a particular young light. Outside near the end of a day in mid April.
Or February.
At 5am on Rustlings Road people awake to a great terror. Three women are arrested for standing under a tree, by the time they get home again the tree has gone.
Green cathedral where you are.
You could mistake this all for low down boundary wall growling. Very boring neighbourly disputes. You have to move across that territory without letting your feet touch the ground, use the coat pegs if you need to. Or you'll burn, or you'll drown, or crocodiles.
"Both the garden style called 'sentimental,' and the French Revolution, grew from Rousseau. The garden trellis, and the guillotine, are alike entwined with the honeysuckle of the new 'sensibility.'"1
The HMS Nymphe was wrecked in 1783. Underwater somewhere off Tortuga lie tree motifs on a marbled background. These sherds give the earliest known date for the technique. If you can believe it, La Nymphe took part in the French Revolutionary Wars. Though I'm not sure how, having sunk six years previous.
To create the dendritic mochaware effect you have to have an acidic pigmented liquid entering an alcaline liquid (clay slip).
One way to do this is to extract the the bitterness from inside fag ends. Inhale smoke, exhale branches.
Keep breathing.
"an assault and battery by Michael Humfrey on Thomas Udall on the occasion of the felling of a tree on the soil of the lane…"2
Deeeeee-escalate.
Ceramics is a slotting together of processes. There are necessary pauses between each stage, each layer of the surface. In the presence of. Intense heat. Hypocrite! Placing one thing next to another. Onglaze painting comes last and is optional.
"Stumps of trees already cut were painted blood red as a mark of anger."3
Yellow ribbon was also tied around a sapling. As if to say we'll do better this time, we love you just the same, none of this is your fault darlin' please don't ever think that. New in post, naive, not as effective as your predecessor. But again that is not your fault. Darlin'.
the wooden roof that went up in flames was built with beams more than 800 years ago from primal forests. "we don't, at the moment, have trees on our territory of the size that were cut in the 13th century." 4 
Britain's great estates pledge trees to help rebuild…
404 error 5
Spit.
"The land mourns, and all who dwell in it will waste away with the beasts of the field and the birds of the air; even the fish of the sea disappear."'6
More than once, I have built a hollow object from smooth clay without enough sand mixed in to strengthen it. I have poured slip over it again and again, somehow feeling it was strong enough to take the moisture. I have arrived the next morning to find the object has collapsed. I had all the information needed to avoid it happening. I'm not sure why I still did that.
Lay down, let your limbs go limp.
There is a photograph from the last public execution in France, in 1939. Lollipop trees are evenly spaced, it goes tree, tree, tree, tree, treeguillotinetree, tree. The crowd stood demilune.
He lured her to a cave
in the forest of Fontainebleau.
I'm not sure why
this feels significant.
Nor me!
Probably isn't then! Dickhead!
new-age Salvationist, holy among your cow-parsley7
Ssshhhhuuuut uuuuuhp
You can pass alongside them using Google Streetview (Place André Mignot). It's chilling actually, to witness very the last door you'd have walked through (clutch chest). Genuinely moving. Oh. Wait. That is not the right door, zjusch down a bit. Have a second go at that emotion. People by the correct door are on a cigarette break. Zoom in on a man tightening, or removing, his belt.
The street goes big tree, sapling, big tree, bigtreesmokerssapling, big tree.
Tree, four
to the right of the door
was torched by a burning car in 2016. A man set his vehicle alight in order that he wouldn't have to sleep in it any longer, and could sleep in the prison instead. 3am he did that.
(At 5am on Rustlings Road people awake to a great terror. Three women are arrested for standing under a tree, by the time they get home the next morning it has gone.)
The replacement sapling on Place André Mignot is surrounded by a double row of posts, like the earliest fortresses. In the presence of green it has a particular young light.
Cheri.
Therefore the moon,
the governess of floods,
Pale in her anger,
washes all the air8
Meanwhile, the unaccustomed heat.9