The Residency Display Case forms part of the studio wall and is re-curated by each resident. The objects I chose, accompanied by short texts, were for thinking about potential connections between ceramic objects and landscape.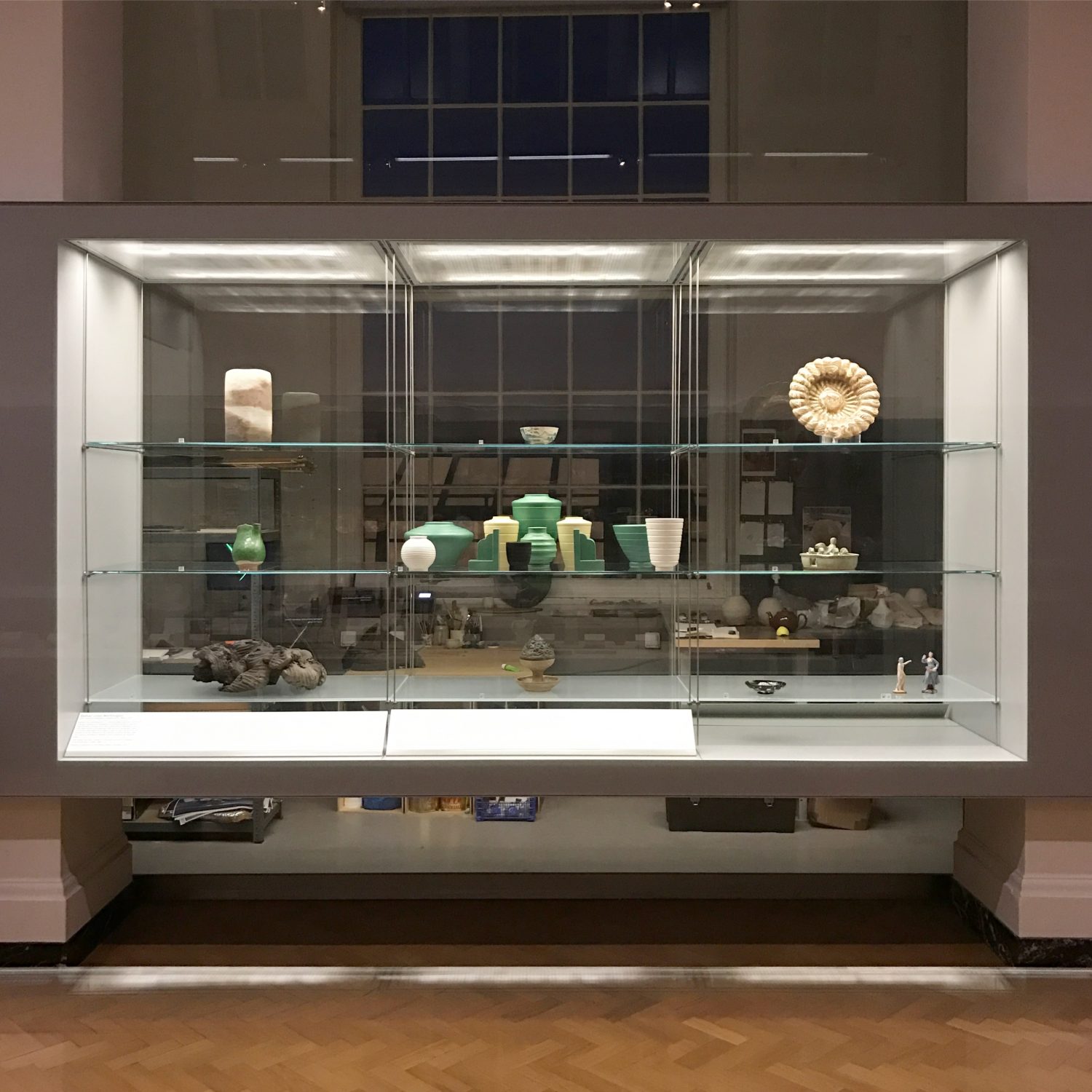 ---
Object 1
Bottle
London, 1967
Made by Lucie Rie
Stoneware, thrown and altered, using partially mixed pigmented clays
Museum no. CIRC. 1227-1967
©Victoria and Albert Museum, London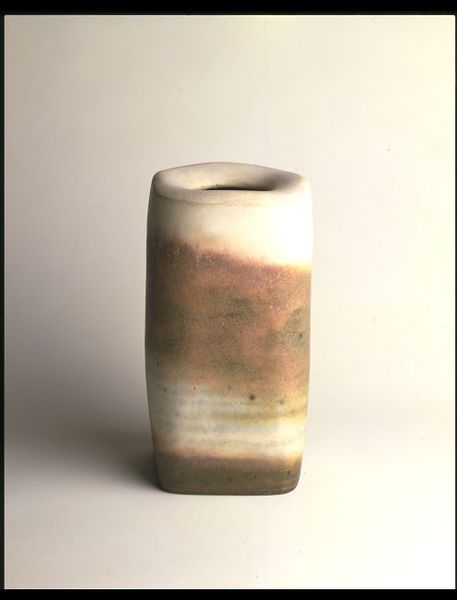 Like mountains emerging through a cool glaze mist you can almost feel on your nose.
---
Object 2
Flask
China, Liao dynasty, 907–1125
Stoneware, with green glaze
This ceramic flask is in the shape of a leather bag… The leaders of the Liao dynasty belonged to the Qidan, a nomadic people who originally settled outside the borders of China. The flask imitates a portable pouch, made of animal skins
Museum no. FE.49-2008
©Victoria and Albert Museum, London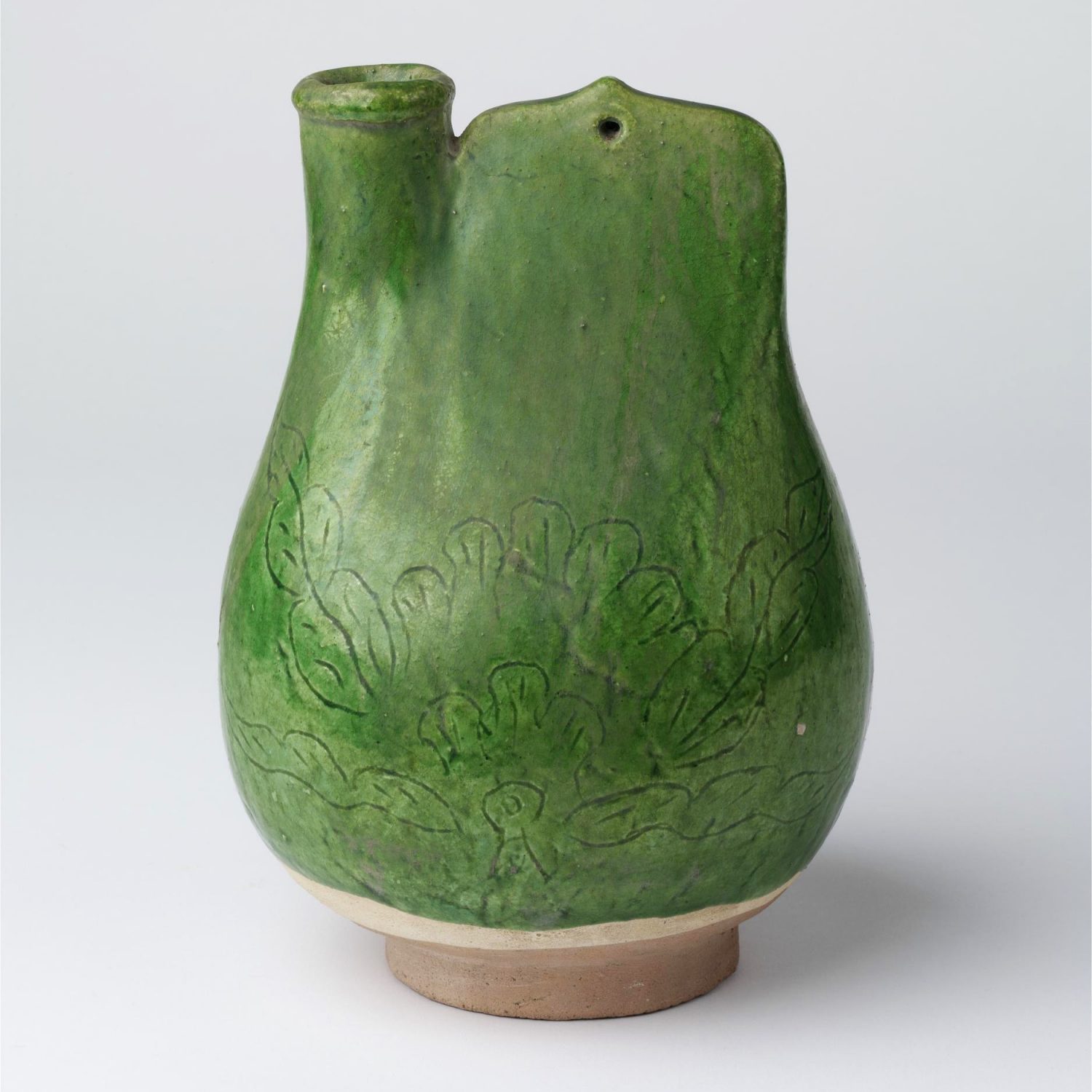 An object to take with you on a journey, or at least, it is the memory of that object we had with us when we were not settled. It reminds us of our sacred destination or of the back of our hat. The landscape scratches out away and past us heart-attack fast.

---
Object 3
Form 4
France, Saint-Martin-de-Salencey, 2010
Made by Alexandra Engelfriet
Stoneware, hand-built, wood-fired
Museum no. C.13-2001
Fired in a trench kiln dug into the ground in an umbilically direct relationship with Saint- Martin-de-Salencey.
---
Object 4
Bowl
China, mid 18th century, decorated in
London about 1760
Probably decorated in the workshop of James Giles
Porcelain, painted in enamels and gilded
Museum no. C.143-1945
©Victoria and Albert Museum, London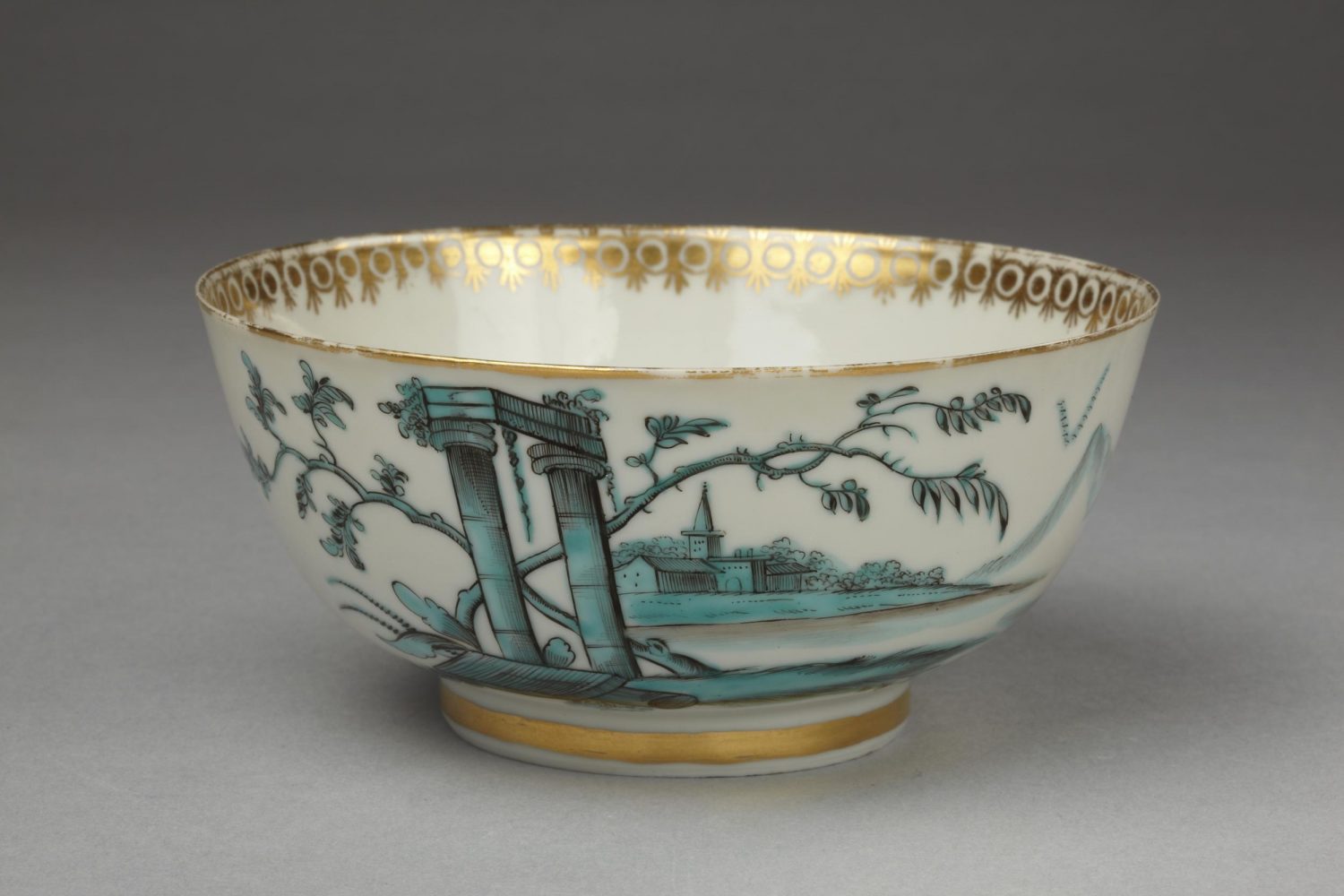 Consider this a placeholder for the notion of the idealised landscape.
---
Objects 5
Vases, bookends and a beaker
England, Staffordshire, designed 1933–9
Designed by Keith Murray, made by Josiah Wedgwood & Sons
Earthenware, with matt glazes
Museum nos. Circ.602-1954, Circ.531,
544 to 546-1974, Circ.261, 266,
268, 658&A, 679-1975
You do not have to clip it
To maintain its shape only hold it with
two hands
by bole not branch
above a surface higher than the ground
---
Object 6
Incense burner
China, Eastern Han dynasty, ad 25–220 Red earthenware, with green glaze
Hill censer (boshanlu) with goblet-shaped bowl set in a wide saucer; red earthenware with green lead glaze much perished and encrusted with silvery white iridescence; flat base with "thread mark". Fitted with a cover (the cover does not belong) of cone-shape moulded and pierced, with a design of hills on which are animals and figures on foot and horseback hunting with bows.
Museum no. C.818&A-1936
©Victoria and Albert Museum, London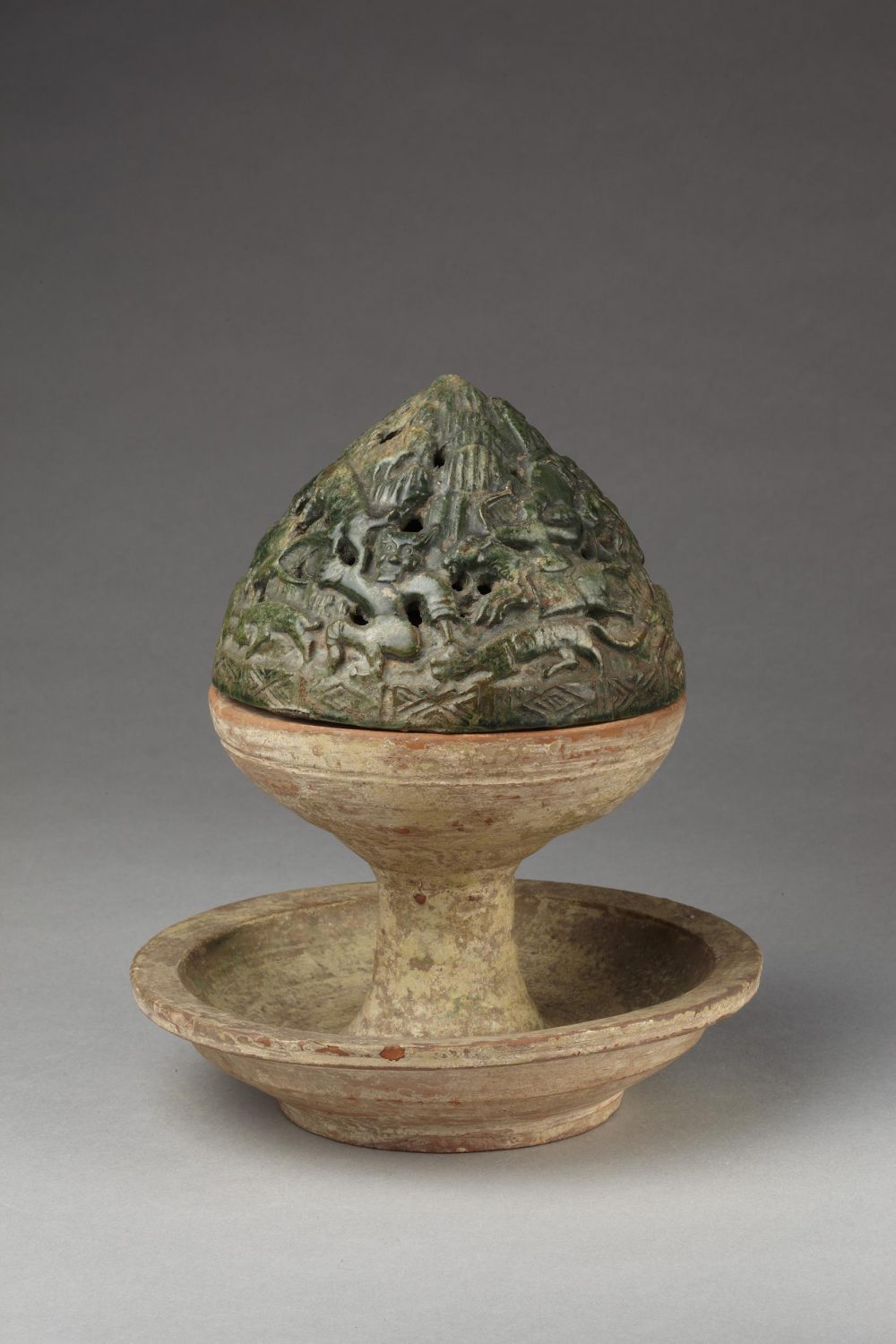 "The smoke from the incense would envelope the mountain like a kind of supernatural fog."
– Historical Context note, V&A online catalogue, collections.vam.ac.uk
---
Object 7
Dish
Netherlands, Delft, 1660–90
Tin-glazed earthenware with marbled decoration
Museum no. C.64-1939
©Victoria and Albert Museum, London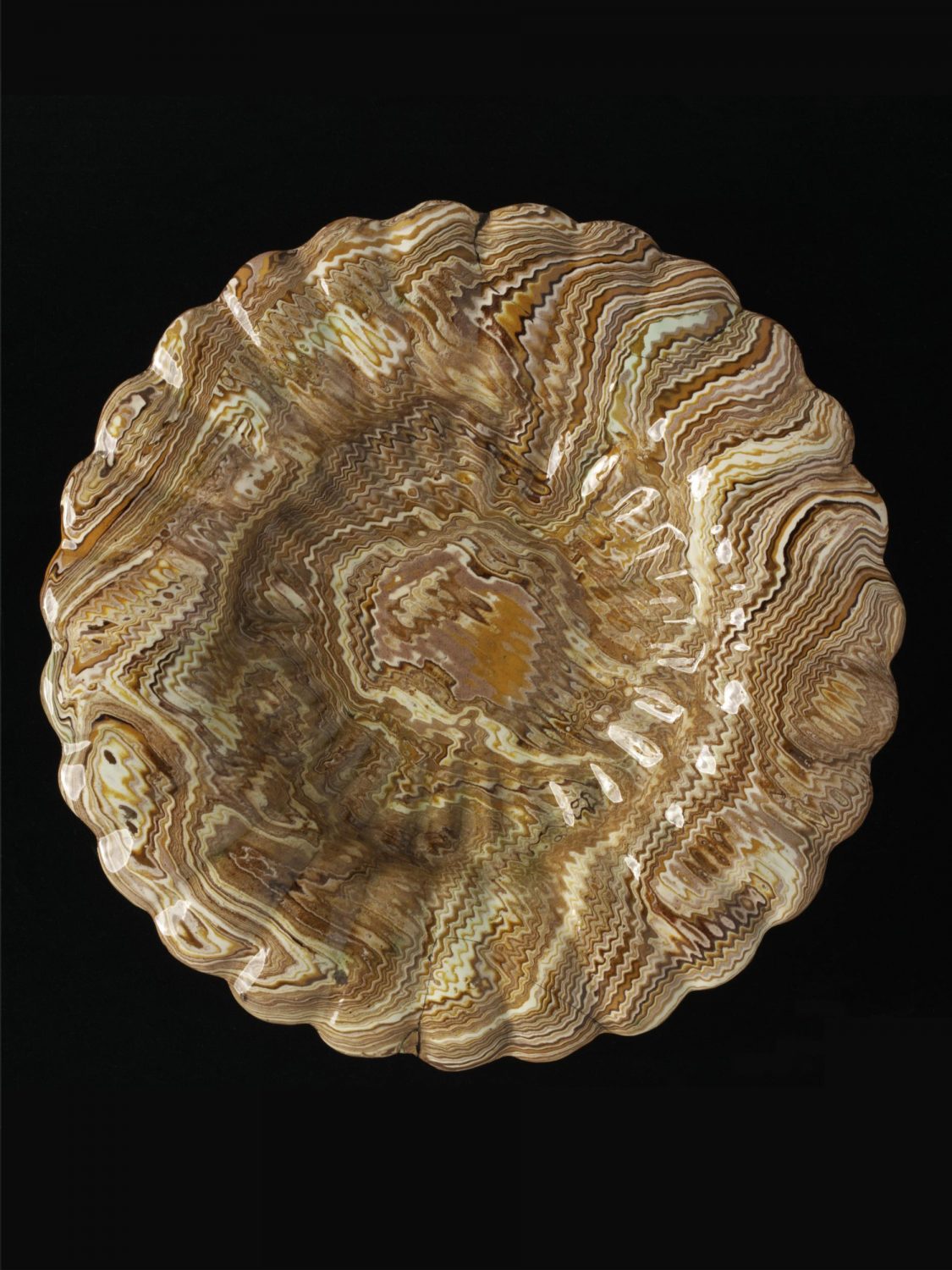 What if I say this is a cave?
---
Object 8
Model of a sheep pen 9 China, Eastern Han dynasty, ad 25–220
Earthenware, with green glaze
Museum no. C.884-1936.
Purchased with the assistance of the Art Fund, the Vallentin Bequest, Sir Percival David and the Universities China Committee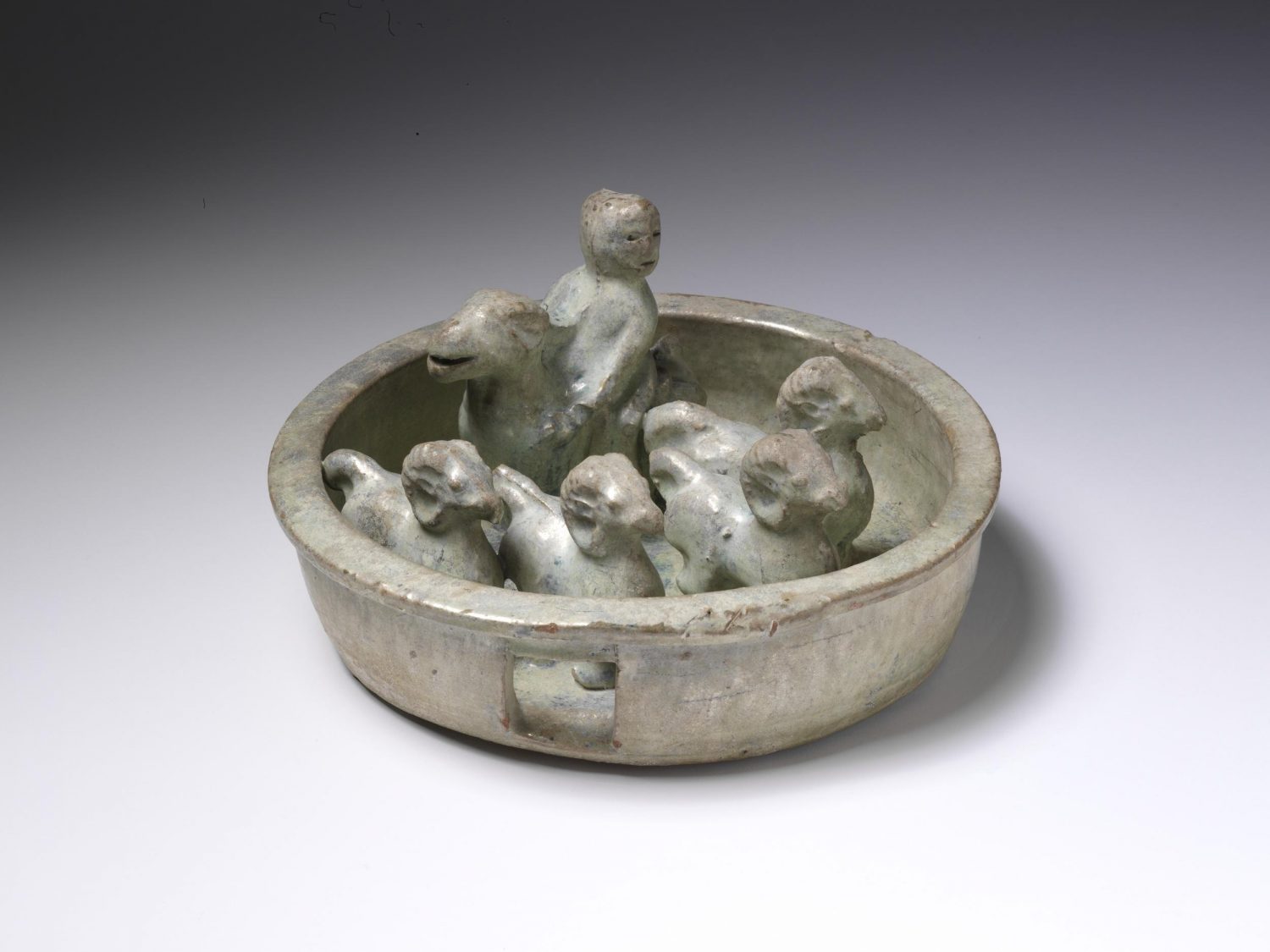 Through the hatch, see their knees and private green hooves.
From the sky the ridges on the backs of the sheep are sharper than spines should be. This line continues 'cross unfettled foreheads. Once you've seen the symmetry of the mould you can't not. On that point – isn't the shepherd's head long? With his face of mean stabs to let the dark out.
It's too long, really, that head. The dawning that… it stands to symmetry that…. there must be another face around the back. Might be a smoothish one, features healed up, but still. Imagine having to take him to the grave thank you no.
---
Object 9
Saucer 10 Switzerland, Heimberg, about 1871
Earthenware, splashed slip under a clear
glaze
Museum no. C.618A-1921.
Given by the Royal Commissioners for the 1851 Exhibition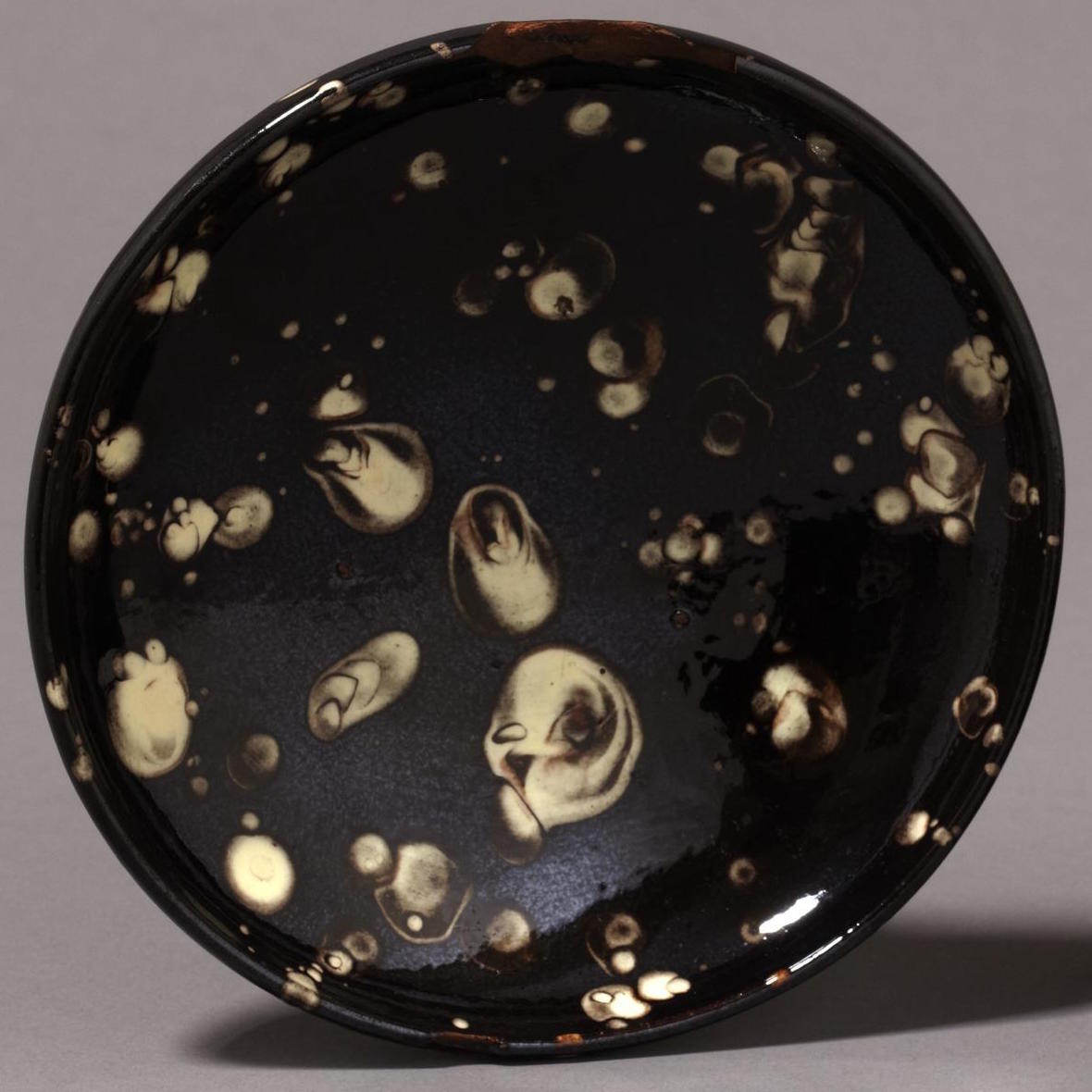 I saw the saucer and I heard the word "Pwll"*
"Pwll"
"Pwll"
"Pwll"
Splashing into my hollow head.
*The Welsh word Pwll translates as Pool or Hollow. I don't have very many Welsh words, so the ones I do have can feel very strong and undiluted by chitchat.
---
Object 10
Figure 11 Germany, Höchst, late 18th century
Porcelain, painted in enamels
Museum no. C.64-1927.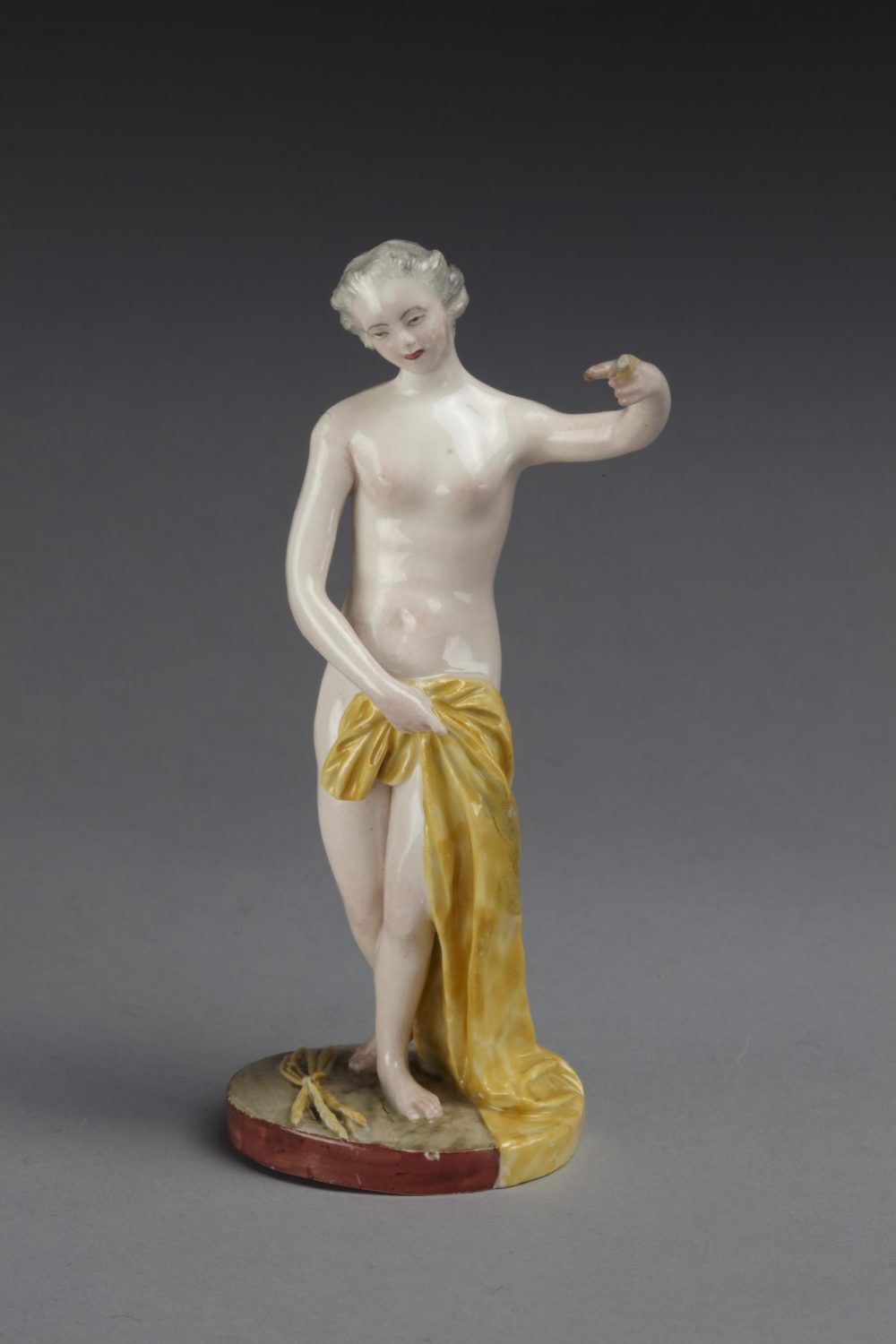 Don't be dazzled by seasonal narcissism. This is not about her but about what's beneath her feet.
Figures must stand on something or fall over so it is pragmatic, if literal, to make this the ground. The green grass goes at the top, the brown soil underneath at the sides. A cut-out chunk of earth and turf like when the digger hits the pasture.
---
Object 11
Figure
Italy, Doccia, about 1770
Made by the Doccia porcelain factory Porcelain, painted with enamels and gilded
Museum no. 378-1902. Given by Col. Waldo-Sibthorp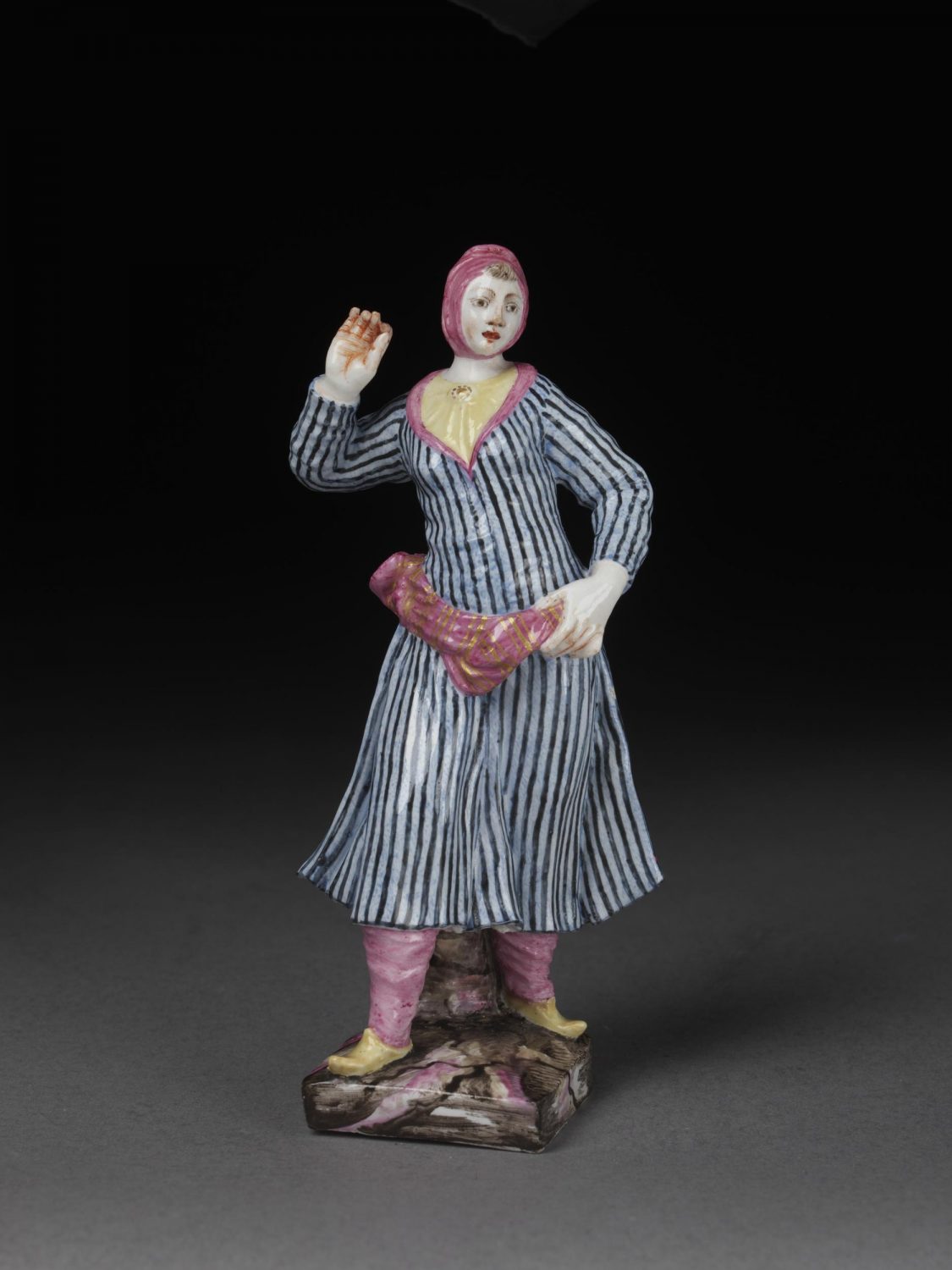 A flouro-marble outcrop will match her pants and save having to mix another paste. She will be fine on there. Forever.