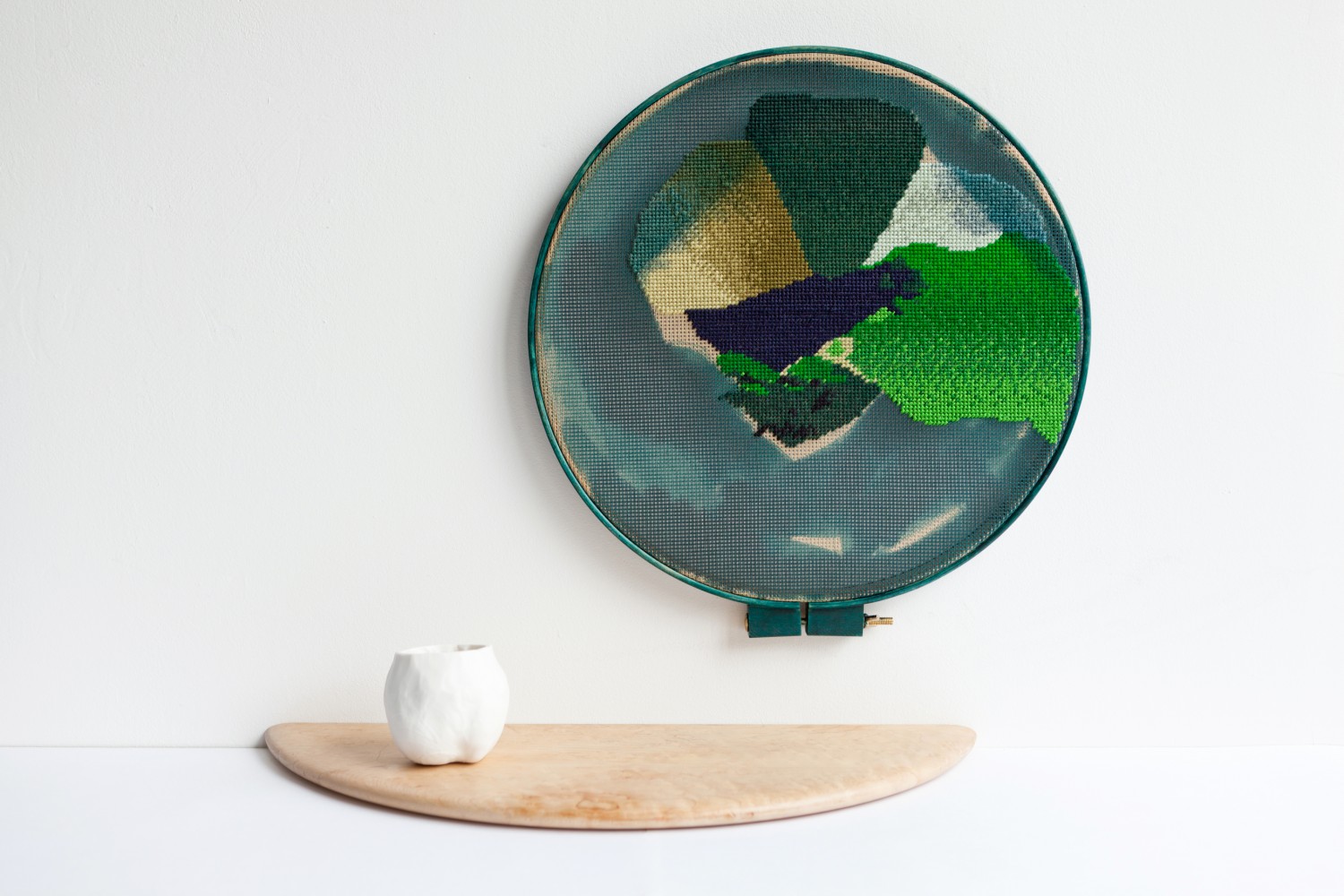 Have you seen this cup? It could be anywhere here, really. 2015
Porcelain, needlepoint tapestry and dye on canvas, wood
Made for the exhibition Many a Slip at Marsden Woo Gallery, curated by Alison Britton.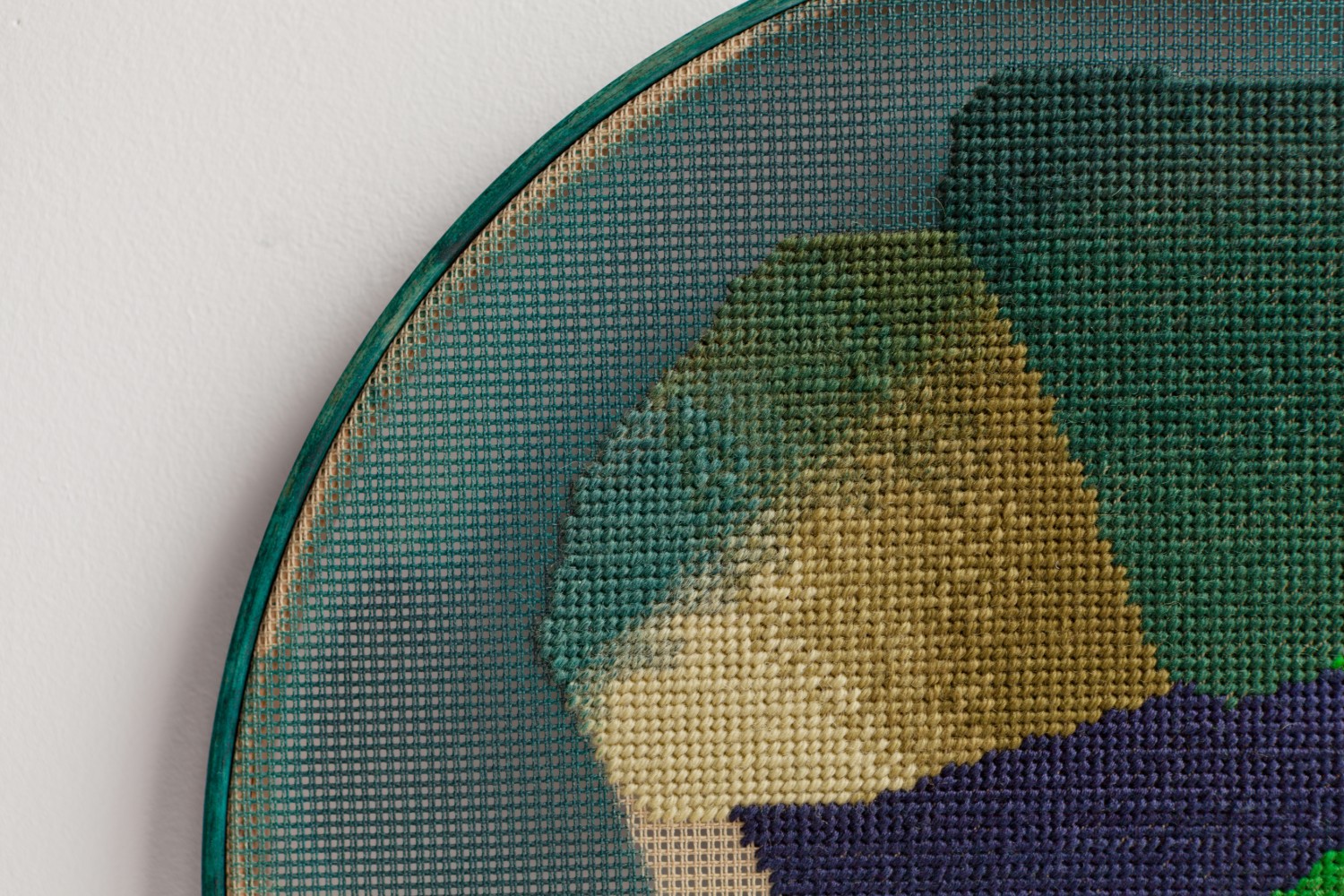 My cup comes from a reference to an "antient family cup" described by Thomas Pennant in A Tour of Wales, 1778, following his visit to my ancestors at Cwm Bychan. I don't know anyone who has seen it since, maybe it never existed at all. But we could look for it. I've made a map of the area and a reconstruction of what the cup may or may not have looked like.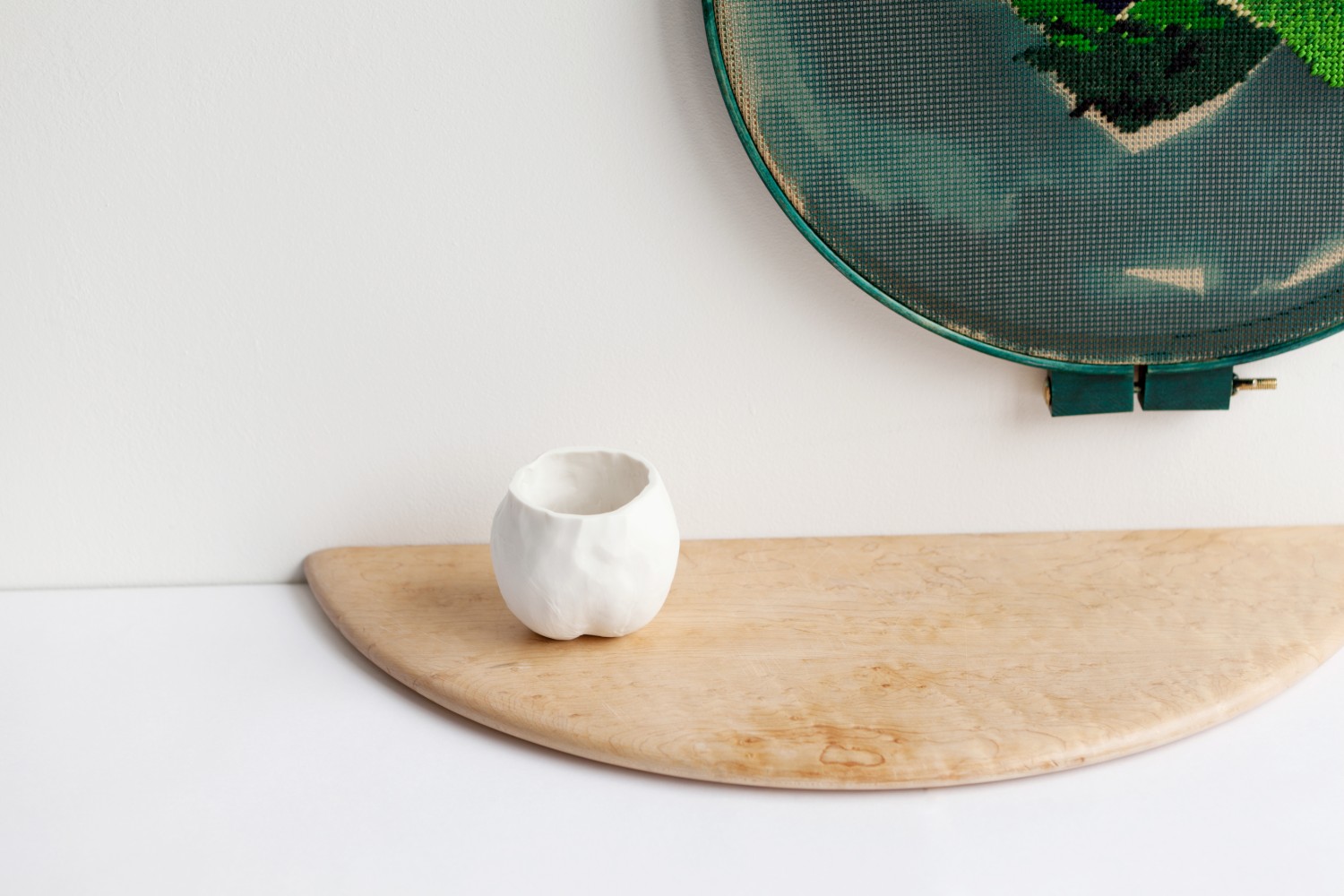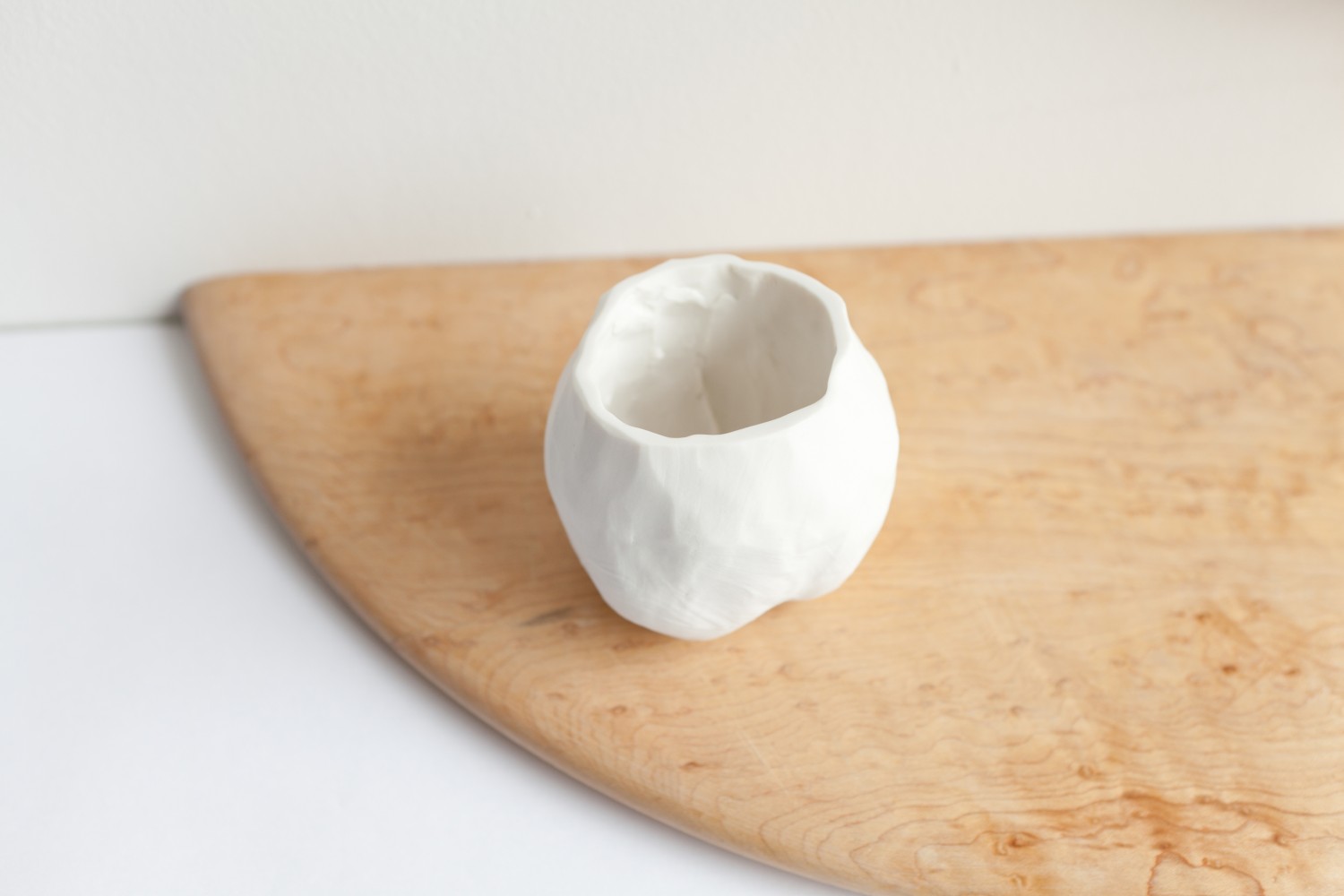 Pennant's account, 1778  –
FROM Corsygedol, I pursued my journey towards Harlech; but, on the road, was tempted, by my constant fellow-traveller, the reverend John Lloyd, to make a small deviation to visit a near relation of his, who lived a few miles to our right, in his antient territories of Cwm Bychan. We approached it throughGlyn Artro, a little valley, watered by a river of the same name, and prettily wooded. The view upwards was extremely picturesque, of a conic rock, skirted by a sweet grove; and beyond soared the naked mountains, which bounded the object of our ride.
AFTER passing through the wood, and ascending Dinas Porchellyn, we had before us a wild horizon of rocks and rocky mountains. Even these tracts, unfriendly as they seem to vegetation, had once been covered with venerable oaks; and there still remained a few, between eight and nine feet in circumference. We went under their shade, above a rapid torrent, with a delightful view before us of a true wooden Alpine bridge, and a small mill; and, a little farther, an antient arch, flung from rock to rock, giving passage over a still and black water, shaded by trees. Ford the river again near Llyn Sarph, orThe Serpent's Hole. Wind up a rocky stair-case road, and arrive full in sight ofCwm Bychan, embosomed with rocks of magnificent height. After a short ride, high above a lake of the same name, descend, and reach the house of the venerable Evan Llwyd, who, with his ancestors, boast of being lords of these rocks, at lest since the year 1100. This, and the fortified pass of Drws Ardudwy, were most probably occupied by the sons of Cadwgan, in their contests with the sons of Uchtryd ap Edwyn, whom they at last expelled the country.
THE following, as it is the true descent of Mr. Evan Llwyd, and my fellow-traveller, who being brother's children, are eighteenth in descent from Bleddyn ap Cynfyn, so it is a genuine copy of the form of a British pedigree;
Evan ap Edward, ap Richard, ap Edward, ap Humphrey, ap Edward, ap Dafydd, ap Robert, ap Howel, ap Dafydd, ap Meirig Llwyd o Nannau, ap Meirig Vychan, ap Ynyr, ap Meuric, ap Madog, ap Cadwgan, ap Bleddyn, ap Cynfyn, prince ofNorth Wales and Powys a
I was introduced to the worthy representative of this long line, who gave me the most hospitable reception, and in the style of an antient Briton. He welcomed us with ale and potent beer, to wash down the Coch yr Wden, or hung goat, and the cheese, compounded of the milk of cow and sheep. He likewise shewed us the antient family cup, made of a bull's scrotum, in which large libations had been made in days of yore. The family lay in their whole store of winter provisions, being inaccessible a great part of the season, by reasons of snow. Here they have lived for many generations, without bettering or lessening their income; without noisy fame, but without any of its embittering attendants.
Of this house was the valiant Dai Llwyd, to whom is said to have been addressed the noted Welsh tune, Ffarwel DAI LLWYD, on occasion of his going with Jasper Tudor b and Owen Lawgoch, to fight Risiart Frawdwr, orRichard the Traitor, by which name the Welsh stigmatized Richard the Third.
THE mansion is a true specimen of an antient seat of a gentleman of Wales. The furniture rude: the most remarkable are the Cistiau Styffylog, or the great oatmeal chests, which held the essential part of the provision.
The territories dependent on the mansion, extend about four miles each way, and consist of a small tract of meadow, a pretty lake swarming with trout, a little wood, and very much rock; the whole forming a most august scenery. The naked mountains envelope his vale and lake, like an immense theatre. The meadows are divided by a small stream, and are bounded on one side by the lake; on the other, by his woods, which skirt the foot of the rocks, and through which the river runs, and beyond them tumbles from the heights, in a series of cataracts. He keeps his whole territory in his own hands; but distributes his hinds among the Hafodtys, or summer-dairy houses, for the convenience of attending his herds and flocks: he has fixed his heir on another part of his estates. His ambition once led him to attempt draining the lake, in order to extend his landed property: but, alas! he gained only a few acres of rushes and reeds; so wisely bounded his desires, and saved a beautiful piece of water. He found on one side a stratum of fine white earth, about half a yard thick, which I perceived was what mineralogists dignify with the name of Lac Lunæ, and Agaricus Mineralis c.
a Numbers of respectable families in this country, are of the same descent.
b There was a person of the same name with Owen Tudor, at the battle ofMortimer's Cross, and beheaded with him. See Holinshead, p. 660
c A friable variety of chalk or carbonate of lime. ED.
Photography, Marina Castagna.